BEST ONLINE CHESS CLASSES AND COURSES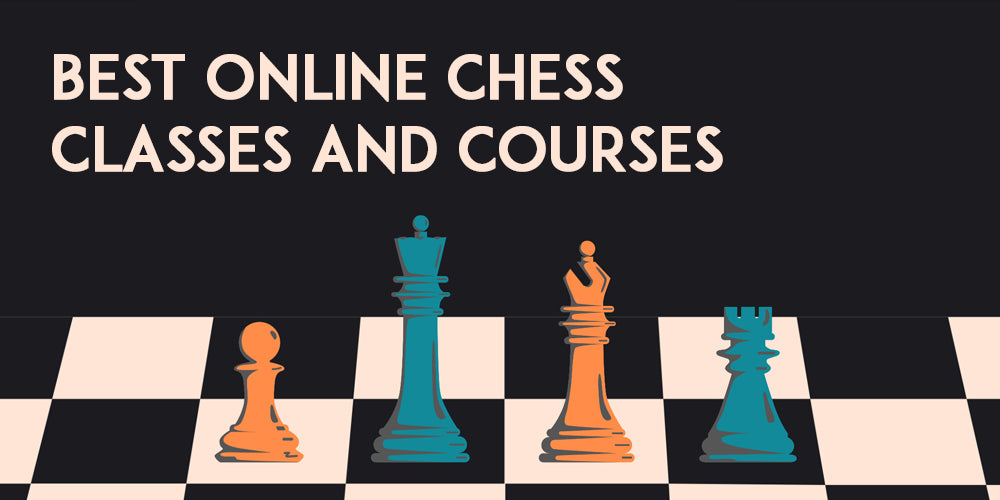 Online chess classes can help anyone in the strategic game of chess. Be it you have experience as a player or not. It can enhance your skills and enjoy this centuries-old game. The best online chess classes are an approach to help you understand the concepts and tactics. Few private chess classes provide real-time instruction. You can learn from video, audio, or written content. Learners can learn the course at their own pace. Whichever chess course you choose, the most important thing is to practice practice and practice. Many online chess classes provide the opportunity to practice and play games as well.
COMPLETE CHESS CLASSES :CHESS KLUB
One can learn from the best chess coaches, be it beginners or experienced chess players. You can take advantage of practice sessions, and play tournaments with Chess Klub as well. Some pros of online chess classes, you can choose a group and a private coaching, live class recordings and USCF tournament. Few cons are, one might get confused for opting coaching plans and no free preview of resources. Chess Klub offers many opportunities to learn and explore. Here you can practice with private coaching, group coaching, daily tournaments, practice sessions, and a library of resources. Chess Klub is open to all ages while some online classes are only for beginners. Most importantly this online chess academy is recognized by the United States Chess Federation (USCF). Chess Klub offers seven days a week classes. If you miss the session or want to review, chess klub has the provision of recording. The prices are not available on its website. You can play up to 16 hours of live practice sessions after you sign up for a coaching membership with chess klub. Each week the coach will take up your queries and clear your doubts. Beginners will acknowledge the comprehensive instruction available and more advanced players will benefit from regular tournament play.
FOR BEGINNERS: LEARNING CHESS 
Basically, it is for beginners, a perfect and easy online chess class. This online chess makes the game much easier for new players. Learning Chess provides you easy and quick chess tactics. As we all know new students always want a simple approach, self-paced learning, and a lot of practice. Learning chess offers you with a
 affordable online chess course. Let's have a look at its pros. You can access it from smartphone, tablet and computer.  It also offers a money back guarantee. One can have free lessons as well. Now have a look at its cons. The course content is only available for two years and there is no instructor feedback. LearningChess makes a great turning point. This online chess class for beginners is self-placed and systematically introduces the basics of the game. You can start and stop a lesson at any time. You can save your game as well. Add your new chess skills to work by playing a chess game against a computer or other chess students.
CHESSABLE 
If you want to improve your game then you are on your right online chess class that is Chessable. Increasing your knowledge of the game with Chessable. Chessable offers many online courses which include free and paid options.You can have many interactive learning experiences and the app is to learn on the go. In Chessable a few courses are really expensive and with no feedback. Chessable offers a range of catalogs of online chess. It is easy for students to choose courses according to their ability to learn. One can really explore chess in detail. A unique learning system known as MoveTrainer, the best advantage of chessable. It offers learning chess through video and  board practice which really helps to reinforce the learning. The courses are divided into four sections which are Openings, Endgames, Strategy, and Tactics. In chessable few courses are free and many are paid courses with video content. You can opt for the full video course or a less expensive version, depending on your choice and needs. These chess courses are popular with intermediate and advanced players. So, do not wait to brush up your skills with chessable.  
ICHESSU  
IChessU stands for International Chess University. It is a unique platform to learn chess lessons in English. It is best for live classes with both private and group classes. IChessU offers live instruction which helps students to perform well and to reach their goals. IchessU offers you a free trial group or private lessons. But here there is no option to preview, one thing you can do is download the IChessU program on your computer. IchessU provides chess classes for all ages. The curriculum has been developed by chess experts. It includes a progressive understanding of gameplay and strategy. Hands-on practice and homework assignments are also given to students.
CHESSKID 
It is a wonderful platform for kids. Kids can learn chess online. Chesskid is an engaging, challenging course. Parents can easily check the progress of their child. Chesskid is safe in learning and parents can monitor their child's account. You can get free beginner lessons. One drawback is that it may not appeal to older teens. The players' ratings also do not reflect on the rating system. ChessKid is an online class for kids. The platform is a part of Chess.com. The curriculum is specifically designed for children and young teens. The lessons are shorter and interesting to grab students' attention. It is designed for the age group of thirteen. There are no links or advertisements on this site as privacy is a top priority for this online chess course. Parents will appreciate the safeguards. There is no chance of communication or social networking between kids and adults. Chess lovers can get started with a free account that offers beginner lessons and limited games. If you get gold membership it offers a lot of puzzles and learning exercises. 
IN CONCLUSION
Staunton Castle always advises you to choose the right online chess class depending on your learning level, style, and budget. To learn chess all you have to do is practice and a lot of practice. 
For more interesting topics visit at www.stauntoncastle.com
Happy Chess Playing!!
That is for all now! For much more informative blogs reach our website at https://stauntoncastle.com/blogs/news

Buy Luxury Wooden Chess Sets direct from the Manufacturer at www.stauntoncastle.com