How to Speak to Kids About Chess - Best Guide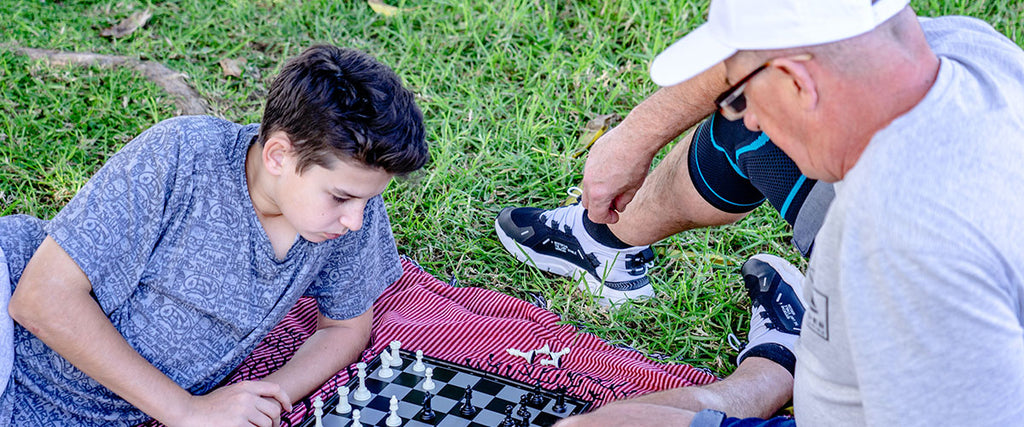 Chess is not like some other games like Flappy Bird, Temple Run for Candy Crush. Chess is a big deal. Nowadays chess has become so popular. It's a brain game. In this hectic era where everyone is tense in their life, playing chess is a calmful game. So you should teach chess to your kids as well. For that you need to talk to your child about chess. Here you can buy some good handmade chess from www.stauntoncastle.com. You can get Antique chess set, Ebony or boxwood chess set. Talk to your child about how to play chess. What are the pros and cons of playing chess? 
ENCOURAGE YOUR CHILD 
Your child needs to know that developing an interest in chess is perfectly natural. Remember your first heartbreak, first checkmate, first tournament. Your first love for board games. Wow! It sounds so crazy and amazing. Your hardship and victory, now it's the time for your child to discover this wonder of life for themselves. 
Never confront them, always talk to your child about chess step by step. Boost them to explore chess in a healthy and informed way. Sit with them, talk to them through tactical themes. Tell your own excitement for chess. Help them to make an online account at chess.com or chessKid (depending on their age).
Encourage your child and help them during this important change. If your child becomes comfortable with talking to you about chess, then it's a great thing. If they don't, then your child might end up doing nothing. So pull up your socks! Always encourage them so that they start loving chess. 
ALWAYS ADMIRE CHESS 
When your child has been playing online blitz chess, have you noticed your child posting in the chat "yay!! I won you Lose". Sounds weird, making fun of the game or degrading the game. This is the time to teach your child to admire the game. It's every  parent's worst nightmare, but many of us must face it to some degree throughout our child's development. About chess manners and etiquette, it's your responsibility to inform your child. 
Shaking hands before an over-the-board game(OTB) or letting them know it's not okay to send thumbs down emojis in the chat box of the opponents. 
Lashing out is a natural behavior that needs to be handled with understanding and care. Don't worry! teach your child how to address unkind behavior and not to give negative answers in return to their opponents. Be nice and do not trash talk.
TELL THEM ABOUT CHESS IN A SAFER WAY 
You know one really interesting thing that "Chess content creators are awesome", and you enjoy them yourself. So try to show chess content to your kids. Instead, show them rating-appropriate content. The big picture has changed now as compared to when we were kids. Now all your favorite content creators are making friendly, beginner courses and videos. It is a healthy way to engage your children in chess content without being pressured. 
PLAY CHESS SAFELY
When it comes to chess, it's really hard, when to stop. It could be just one more game or you can say late-night binge if there's still homework to be done. Your child must learn when to stop. With your guidance, you can make a difference in your child's behavior and game. Encourage them to play rapid chess, or to play in small steps. Inform them about 3+0, playing 6 or not only to castling. It is really important to build healthy boundaries for your children's chess habits.
RATINGS AND ELO
Ratings and Elo are huge talking points among chess-playing adolescents. Unfortunately, such discussions devolve teenagers into competitive comparisons. For example, ''My horse is bigger than your horse''. These discussions will become commonplace among individuals. Always encourage your child for healthy discussions. Tell them, it's ok if you lose, take a lesson from it. If you win then also learn from it. Strongly encourage your child that it's clear to me that your endgames have improved substantially. Be friends with your children. Instead of just numbers, focus on the positive side of the situation. It will assist your child in his or her chess development and help foster a comfortable relationship with their peers. Never encourage your child for unhealthy comparisons. Focus on a child's achievements and remind them of their victory, show them love, when playing chess. I know there are many of you whose inner child is still focused on blitz ratings. Be Careful while speaking in front of your children they will surely learn from your behavior and mindset. 
''Bigger number is good, a smaller number is bad. "Do not teach them, this could damage their relationship with chess as they grow. So be neutral with them. 
HOW TO DEAL WITH HEARTBREAK 
Children form all sorts of attachments, as they grow up. Just like TikTok dances, or chess openings. When kids learn to play chess they further have such emotions like, "I'm not playing this opening ever again!", "It was my favorite opening!" or "I can not believe it would let me down!" These are all sentiments that you might have heard. After a three-hour chess game that didn't go your child's way. For that, you need a lot of patience. Of Course, it's not easy to deal with such disappointment over a chess game, where your child puts a lot of time, energy, and mind. Remember, we also faced our heartbreak in the game of chess, such obstacles are a part of life. Without judgment make sure, you will be there for their support. Do not pass any wrong remarks to your child like, "I told you so," or "I knew that opening was too complicated for you at this stage." Beware of all these lines. If you want your child to stay honest and open with you about the chess game and its strategies, then support them the most. Let them know that you are with them. Be there for your child when they are facing disappointments in chess.
CONCLUSION 
Finally, when it comes to discovering chess, every child needs to pay attention and every parent knows they are in for a bumpy ride. Sometimes it will take a lot of time to teach chess to kids. There will be highs and lows, excitement levels, low performance, high risks, and much more. But the excitement of the World Chess Championship, definitely gonna be seen in your child's eyes. The shine in their eyes can light up their enthusiasm for chess. On top of the cherry, what if they saw their favorite streamer take part in Pog Champs?
What if your child wins FIDE!! There will also be lows like rating fluctuations, and schoolyard teasing. In that case, it's only the parent's responsibility to make them feel safe and confident. Maybe we can't afford high brands but definitely parents can afford affection and love and guide their children to better things in life. Furthermore, playing chess can develop the child's brain, give him a sense of courage, and confidence and get him away from bad habits. It helps him in this overall development. We can provide support for them in improving at chess, and being respectful towards others and perhaps one day your child might be.
Buy Luxury Wooden Chess Sets direct from Manufacturer at www.stauntoncastle.com.
For more such interesting articles visit at www.stauntoncastle.com/blogs/news
Order Luxury Chess Sets and Pieces Here - www.stauntoncastle.com