HOW TO DEFEAT THE OPPONENTS WITH PAWN MOVE IN CHESS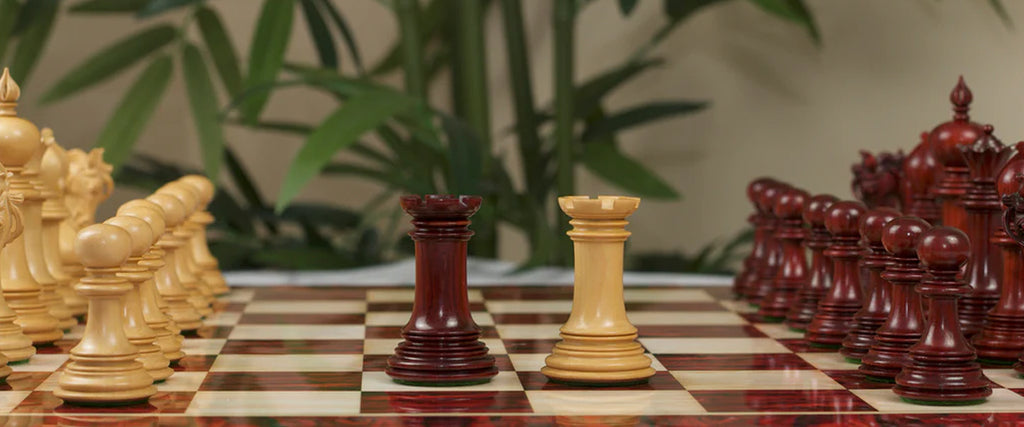 CHESS EN PASSANT RULE
What is Chess EN Passant Rule? Well, You really want to know this secret rule which is very important to learn. This rule, yes, can make you a chess master. To know more, let's read this whole article. Since always, luxury chess pieces have been treated as cultured matchmakers for those carrying some relaxation hours. 
After all, nothing can be a better exercise for your brain than chess. For this reason, every beginner is inspired to be a renowned chess player someday. Just like Magnus  Carlsen. Do you want to be called a chess player? Well, you own a modern luxury chess set that is only available at http://www.stauntoncastle castle. Here you can find all types of handmade chess sets, hand-carved wooden chess sets, Antique chess sets, handmade wooden chess sets, Dubrovnik chess sets, Mahogany chess sets, Luxury chess sets, Large wooden chess boards, and many more. This list is endless. The secret En Passant rule is a very important rule and a smart move for the game. En Passant term is a French term, which means in passing. This move is just the capture you want for cracking the pawn of someone who has just lost the opportunity to crack your pawn. Now! The secret you know all. 
WHAT IS CHESS EN PASSANT RULE?
As the name sounds, En Passant is a French word. Surprisingly, this French term is a direct, straightforward move to cut the pawn. Be it knowingly or unknowingly, falling two steps in front of the opposition pawn. 
Without giving an opportunity to the other pawns for getting one, many times one pawn moves. Because of this, the En Passant move was invented for giving special moves and placements to the pawn. This is only to enhance your game and your skills. This game is a treat with luxury chess sets. 
WANT TO KNOW THE POSITION FOR THE SPECIAL PAWN MOVE IN CHESS? EN PASSANT RULE 
If a pawn is on one side, the other pawn must be two steps down to the right.

To the move of the first pawn, the second pawn must react.

The first pawn must fall adjacent to the second pawn
WITH THE EN PASSANT MOVE, HOW TO PLAY THE CHESS PAWN STRATEGY?
When the previous pawn is next to you, you have the space to step to the diagonal and cut the adjacent pawn.This sounds simple but use this En Passant rule carefully and wisely. With these simple tips and tricks you can learn more. You can become the master of the game. En Passant Rule is a quick trick. 
THE IMPORTANCE OF CHESS EN PASSANT RULE 
You need to know the En Passant Rule. The En Passant Rule is not applicable in every move or in every situation. Yes! It is only possible in a few certain conditions. Here are a few tips where, When you can consider that the En Passant Rule is about to fall.
The black pawn is the initiative move to calculate the steps of the pawn, if it is in 5th rank of the white pawn or the 4th rank. For this, your one pawn must be one square ahead of the half of the board of the pawn. This is how the 5th rank of white and 4th rank of the black is calculated. 
NOTE: The ranks always begin from white, headed by the black.
You can move the En Passant move right after your opponent plays the pawn move.
This can only happen in the next move, and it is not applicable for any move after that. 
You have to hit the En Passant move right after your competitor jumps two steps ahead and lands next to you.
IS IT ESSENTIAL TO APPREHEND THE EN PASSANT MOVE?
En Passant is a good, exclusive and smart move. This will work only if you go to this smart move quickly. Think wisely and choose the best move. You must know the right time to choose the move and the important thing. This fully depends greatly on the situation. You must knock the move only when you are aware that it is not creating a way to a bigger threat on the cost of one pawn.
A PERMISSIBLE OR VALID MOVE? CAN IT BE
This question arries very easily. Is it a legal move EN PASSANT. Well, let's discuss it here. Legal Or Not?  Here is the answer to it.
The pawn conquest rules are completely legal, but there is a twist, if only it adheres  to some of the conditions. Let's look for more. 
Your pawn must be one step advance of the half board of the competitor.

The opponent must jump two steps ahead to land next to your pawn.

Your move has to be very quick but always be careful while making a move. 

Take it as a one time opportunity. 

Not applicable on any further moves.

Be clear and follow the rules.

Be the master of the game!
CONCLUSION
Make a rule! On the count of one two three make your En Passant move. To take situations in your favor it's just a quick chance to turn the game in your favor. Be the established learner you want to be. Get ready for the next chess match with one step ahead on strategy and intelligence. This will surely help you to improve and better player.
Visit our website, www.stauntoncastle.com, and its blog page to learn more vital, interesting, and engaging content ideas to play chess. Get to know about how chess is beneficial to us. One Big Thing is that it's the time to buy modern luxury chess sets, which are available only at Staunton Castle. Get the most sophisticated chess board for your luxury playing. Get all kinds of chess sets from Staunton castle be it a boxwood chess set, Ebony Chess Set, Antique Chess Chess set, and much more.
 Happy Chessing!!
Buy Luxury Wooden Chess Sets direct from Manufacturer at www.stauntoncastle.com.
For more such interesting articles visit at www.stauntoncastle.com/blogs/news
Order Luxury Chess Sets and Pieces Here - www.stauntoncastle.com