CHESS - THE MONARCHICAL GAME TYPES OF MATERIAL & WOOD USED IN CHESS SETS!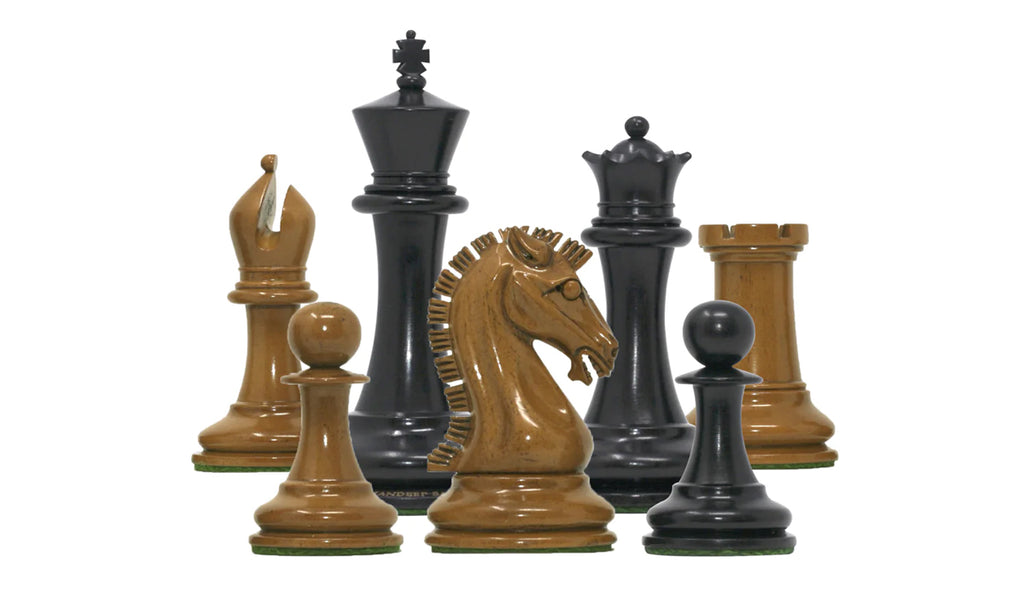 NEED TO KNOW MORE DETAILS LET'S READ THIS ARTICLE! 
The modern game of Chess derives from the Ancient Indian game of Chaturanga, which is believed to have originated around the 6th century CE. It constantly spread across east Asia, the middle-east and Europe, eventually gaining great popularity amongst the medieval aristocracy in the civilized world and becoming the 'royal' game. 
DIFFERENT TYPES OF MATERIAL USED IN CHESS
In chess, various materials have been used to craft chess boards and chessmen down the ages. A few diverse substrates are ivory, stone, marble, clay, glass, wood, jade, and jadeite.
Nowadays, plastic Chess sets are outnumbered and wooden chess sets are of a huge order of magnitude. In today's era, there is mass production of vinyl chess sets that are manufactured in endless quantities. The demand for these chess sets is high. 
For the players, connoisseurs, aficionados, and collectors, material like wood is their first choice. You can avail of these chess sets easily on www.stauntoncastle.com. Wooden chess sets are usually made from fine-grained varieties of hardwood.
THE MOST CHOSEN & APPROVED MATERIAL FOR CHESS IS WOOD 
With the unique combination of density, gravity, sturdiness over time and the theory of art and beauty, these certain varieties and qualities of wood became the most favorable fitting and favored material used to craft the board and pieces of this most regal of all, board games.
Due to these characteristics, crafting wooden chess sets has the highest degree of skill and craftsmanship.
In many Chess sets, you may see two different varieties of wood combinations like Darker-colored combinations for the board respectively, lighter-colored combinations for the lighter-colored pieces, and squares on the board respectively. One of the most common combinations is Sheesham and Boxwood. 
Others may be made out of a single variety of wood, where the lighter, darker, or both colors are used on the board, and the pieces are lacquer-painted.
POPULAR VARIETIES OF WOOD USED FOR CHESS SETS
Most commonly used light-colored varieties of wood Include:--
Boxwood which is known as Gardenia latifoliate is a light brownish-yellow colored hardwood. It is dense, robust, and resistant to splitting and chipping. It gives excellent turning and carving properties. Mainly straight-grained with slight interlock, an even texture, and natural luster. Boxwood is easily stained, painted, and treated in various ways, moderately priced  and used for both lighter and darker pieces and squares.     
Maple, known as Acer saccharum has an off-white to cream texture with a subtle pinkish tint. It may come with quilted, wavy and occasionally with grains. It is highly dense and sustainable. It can easily work on machine tools and with hands as well. Maple gives an immense finishing as well. It is moderately priced. Maple contrasts strikingly and is often used in combination with Ebony. This wood is preferably for lighter squares on our solid wood chess boards.
DARKER-COLORED VARIETIES OF WOOD USED IN CHESS SETS 
Sheesham is also known as Dalbergia sissoo is also known as Golden Rosewood. It has the common features of Rosewood,  with a rich golden-brown tint. It has a medium-coarse texture and a natural shine. The grains are usually straight but may sometimes be interlocked. It has very good resistance and is highly durable. Sheesham is commonly found everywhere, moderate-to-high prices varies.
Rosewood as Dalbergia latifolia has a dark reddish-brown hue with dark and almost black lines on it. Rosewood acquires good durability and feasibility and turns well. Its narrowly interwoven grain, even texture, and excellent polishing traits which provide a beautiful finish. Its carving blanks are highly-priced. 
Ebony, which is also known as Diospyros ebenum, is almost jet-black with dark brown or grayish-brown lines on it. It has a fine texture with a metallic sheen, and hardly visible, straight, or interlocked grains. This wood is rated highly durable. Ebony is almost entirely resistant to termite and other insect attacks. The highest level of craftsmanship is the extremely high density which is always challenging to work with. Ebony is among the more alluring and expensive woods used only in luxury Chess sets.
African Padauk which is commonly known as Pterocarpus soyauxii or Bud Rosewood. 

It is basically of reddish-orange, and darkens to reddish-brown over time. It has a harsh open texture and a natural shine, with straight and sometimes interlocked grains. Bud Rosewood has high breaking down resistance, is rated as highly durable and also

antagonistic to attack from termites and other insects. To work with African padauk is easy, it turns, glues, and finishes well. 

According to research like Ebony, Bud Rosewood is one of the more exotic and expensive woods which is mainly  used in luxury Chess sets.
| | |
| --- | --- |
| | Acacia known as Vachellia nilotica which  is medium brown with darker stripes with a very  fine and even texture. It is of medium thickness and is quite simple to work well with. It is moderately sustainable and resistant to decay and to insect attack.  It is fairly priced, and is widely used as a substitute for Sheesham or Golden Rosewood. |
Hardwickia  is known as "Hardwickia binata" and is commonly called Anjan, and it is of dark reddish-brown color with very dark bands on it. Hardwickia is an even texture with interlocked grains.

 It has a high cutting resistance,which requires careful caving while carving. It is adequately  dense and durable and maintains a good variety for making chess pieces. It takes polish very well. It is moderate to high price, it is a good alternative for Rosewood.
Purpleheart  is referred to as Peltogyne spp is also sometimes known as Amaranth and is a dark brown with a beautiful purplish tint. It has a medium texture with natural shine, straight or slightly wavy grains. It is hard, strong and very highly durable, and is resistant to decay and insect attack.

 Working with Purpleheart can be a bit challenging. It is widely available, prices are low to moderate.
BOXWOOD'' IS ONE OF THE MOST WIDELY USED WOOD IN CHESS IT CAN BE USED IN VARIETIES OF WAYS
Ebonized Boxwood
:  Boxwood that is stained black, and an alternative to Ebony.
Crimson Boxwood:  Boxwood that is colored  crimson for Chess sets.
Lacquer Painted Boxwood: Boxwood that is spray-painted (Chess boards) or hand painted (Chessmen) with lacquer-paint, rather than stained, for an exquisite glossy finish.  Premium Chess sets using Ebonized and crimson Boxwoods are actually lacquer-painted. 
Antiqued Boxwood:  Boxwood that is purposely  darkened with natural strips on it.  and gives the impression of advanced age.
Few chess sets has been made with other materials like:-
Brass :- It usually comes in a variety of hues like reddish-bronze to golden  and finishes comes in polished, brushed, burnished, antiqued and so on.
Aluminum:- It also comes in a variety of many finishes like matte, glossy, brushed.
Marble:-  comes in light and dark colors and with various types of patterns and stripes.
Camel bone:- Intricately carved Chessmen.
Leatherette:-  Artificial Leather used mainly in chess boxes/cases.
For such kind of more interesting article visit at www.stauntoncastle.com/blogs/news
Buy Handcrafted Wooden Chess Sets and Pieces Here - https://stauntoncastle.com/
HAPPY READING!! 
HAPPY BUYING!!