8 BEST FEMALE PLAYERS OF CHESS WORLD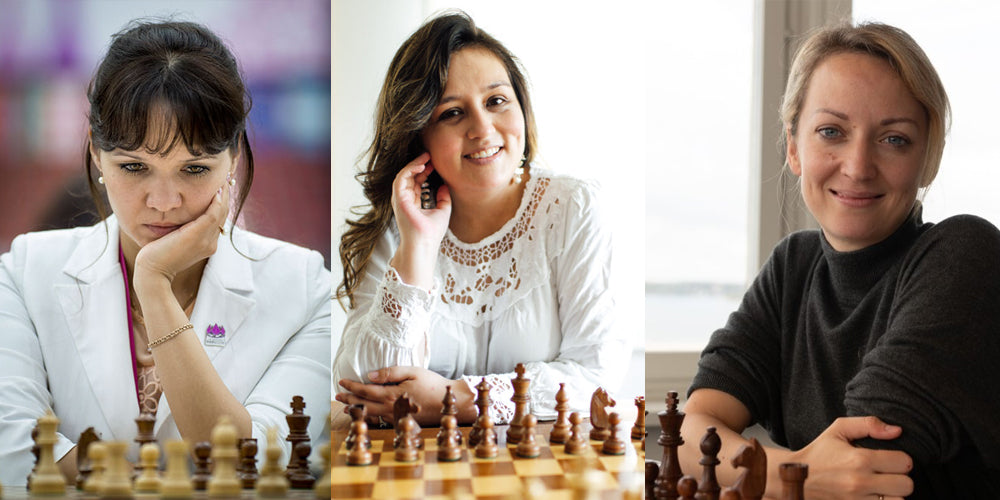 Staunton Castle would like to honor all the women who make the game of chess great. Their unending efforts towards this game. In this article, you will love to read about some of the best female chess players and we would also like to showcase a few new female chess authors. Let's get started and witness some talented superwomen, who have helped chess lovers improve their game over time. 
HANNA IVAN-GAL
Hanna Ivan- gal is a Hungarian woman and a FIDE Master. She joined the Chessable ranks this year. She also introduced her course Beating the Hedgehog System together with IM Laszlo Hazai. The childhood of 
Ivan-Gal was very simple and she is a big fan of solving puzzles. She loves to solve the most challenging puzzles. In her early years, her parents noticed this ability and introduced her to chess. This really helped her to exercise this analytical ability to the fullest extent. Her passion for the game was true, and her tips, tricks, and tactics were amazing. The positional playing style allowed her to win the European Rapid Youth Championship. A Country known for producing top female chess talent is none other than Hungary, her own home country. She is also a member of the Hungarian team. She won the silver medal in the Hungarian Women's Championship and won fourth place in the U16 Youth Olympiad in 2014 and 2016. A wonderful human being and a great chess player. 
ANGELIKA VALKOVA
Angelika Valkova released her first course in 2022 in the month of August. Which is known as 1.d4 for Ambitious Chess Improvers. The course was nominated for Best Opening Course for White in the 2022 Chessable Awards. This Ukrainian talent is also a chess streamer, commentator, organizer, author, player, and coach. Her dedication to chess began at a very young age.  Over the last few years, her ratings increased by hundreds of points, and want to attain the title of Woman Grandmaster. Her game was so impressive that she won the German Women's Team Championship back to back in 2018-2019. She won the bronze medal in two Ukrainian Youth Championships. Last but not least she has been selected as a candidate for the Master of Sports title in Ukraine. 
ALEXANDRA SAMAGANOVA
On International Women's Day, she presented her first course named, Razor-Sharp Tactics. Women's World Rapid & Blitz 2022. A perfect course to learn tactics from this prestigious women's tournament. ALEXANDRA SAMAGANOVA Alexandra Samaganova is a Kyrgyz woman, a FIDE master who has represented her Country on eight different Occasions of chess Olympiads. She first competed in a world championship in World Rapid & Blitz Championships. The championship took place all at once with the open section. Her participation in the event inspired her to create her first-course showcasing games from the women's section instead of the open section.
FLORENCIA FERNANDEZ
Chess course is not limited to certain languages, Florencia has introduced her first course in Spanish. These efforts always encourage the participation of all chess lovers, who want to learn and play chess in their mother tongue. 
Making chess content available in other languages is a great initiative. Florencia Fernandez, an Argentina Woman International Master released her first course "Vence a la Grunfeld" (Beat the Grunfeld) in Spanish one year back.  She has a great chess talent and is a very popular streamer. She is a commentator for Chess24. She is a four-time Argentine National Champion. She represented Argentina at the Chess Olympiads twice.
LUCIANA MORALES
Luciana Morales's newest female author will also debut her first course. The course is named Queens of the chessboard, also released in Spanish. Her mother taught the game at just six years old and she was not only the first female in her family to take up chess. Her mother was so serious about supporting her on her chess journey.
She got recognition from Lima, Peru, Morales showed promise from a young age in her home country. She also won the Lima Absolute U16 and U18 Championships and won the Pan-American Youth Championship. She qualified for the 2004 Women's World Chess Championship, being the first Peruvian player. 
Luciana studied for a master's degree in public policy and management. 
She leads many special projects with FIDE Chessable Academy, The organization aims to give kids access to the best chess education and talent growth.
GABRIELA VARGAS
Gabriela Vargas is a Paraguayan woman who was another addition to the female Spanish authors last year. Her debut course "La Lógica de los Finales" (Endgame Logic) is a hit. A member of the Paraguayan Olympic team, Gaby is a six-time national champion of her own country.  A true pioneer and inspiration for women in chess, she was the first woman to become FIDE-ranked. She also handles Bobby Fischer Chess Academy along with her husband. She is a great admirer of Jose Raul. 
ELISABETH PAHTZ 
Few chess courses are also launched in German in spite of  Spanish. Grandmaster Elisabeth Pähtz, introduced the course "Elementare Schach Strategie" (Elementary Chess Strategy). Pähtz's father is a  Grandmaster himself, and taught her chess at just five years old. Pähtz played for the German national team at just 13 years old. That was the turning point for her and she started collecting chess titles and of course, she grabbed the title of Grand Master. She also banged many crowns including Junior World Champion (U18 w) and German Women's Champion several times in Blitz, Rapid, and Classical time controls. She is one of the strongest female players in Germany. 
JOSEFINE HEINEMANN 
Josefine Heinemann is another German Genius. She recently debuted her course, "1. e4 e5: Das prinzipielle Schwarz-Repertoire" (1. e4 e5: A Basic Repertoire for Black). She started playing chess at the age of the U8 state championship in Saxony-Anhalt. At seventeen, she played for the women's national team and won the German Youth championship twice. In 2018 she won the WGM title and represented her country in international competitions such as the Chess Olympiad. Heinemann has also been sharing her chess knowledge as a coach for the past seven years. She has a passion for playing and teaching. She has created many chess topics, blogging, and streaming. 
Chess is not only a game but it is also a big platform for females. Chess professionals inspire more women to take up the game of chess. Happy Chess Playing!
For such an interesting article visit www.stauntoncastle.com.