-40%

Zoom the image with the mouse
The Herman Steiner Commemorative Series Chess Pieces in Distressed Boxwood and Ebony - 5.0" King
Limited-Time Offers, End in:
The Herman Steiner Series Luxury Staunton Chess Pieces   The Herman Steiner Series Luxury Chess Pieces - 5.0" King Staunton Castle is proud to present its most curated, blend with all...
customers are viewing this product
The Herman
 Steiner Series Luxury Staunton Chess Pieces
The Herman Steiner Series Luxury Chess Pieces - 5.0" King
Staunton Castle is proud to present its most curated, blend with all the creativity, The Historical Steiner Series Chess set.
We dedicated this chess set to the great Chess Player Mr. Herman Steiner who used this same designed chess sets in World's famous chess tournaments.
Brief History of this chess set:
Steiner played three challenge matches against Reuben Fine, one of the world's top players. Fine won all three matches: by 5½–4½ at New York 1932, by 3½–½ at Washington, D.C. 1944, and by 5–1 at Los Angeles 1947.
2:18Steiner at Groningen 1946
One of his major international wins was at the 1946 London Victory Invitational, the first significant European tournament held after the end of World War II. Steiner challenged Arnold Denker in 1946 to a match for the United States Chess Championship at Los Angeles, but lost 6–4. In 1948 Steiner won the United States Chess Championship at South Fallsburg, New York, ahead of Isaac Kashdan.
Steiner was a member of the United States Chess Federation's teams sent abroad to the Chess Olympiads in The Hague 1928, Hamburg 1930, Prague 1931 and Dubrovnik 1950. As reigning U.S. champion he captained the 1950 team.
In the historic 1945 USA–USSR radio match between teams from the US and the USSR, Steiner was the only U.S. player to achieve a plus score. Although the American team including Reuben Fine, Samuel Reshevsky, Arnold Denker, and Isaac Kashdan, was badly beaten, Steiner scored 1½–½ against Igor Bondarevsky.
Steiner was very active as a player in West Coast tournaments, winning the only two California Open tournaments he entered in 1954 and 1955, and winning the California State Championship in 1953 and 1954. He was defending his State Championship in Los Angeles in 1955, when after finishing his fifth-round game (a 62-move draw against William Addison) he felt unwell and his afternoon game was postponed. About 2 hours later around 9:30 pm, Steiner died practically instantaneously of a massive coronary occlusion while being attended by a physician. By agreement of the players, the 1955 California State Championship tournament was canceled.
 It features a 5.0" King with a 2.0" diameter base. All the Chess pieces are hand carved by our skilled Artisans. The chess pieces are crafted out of the highest-grade finest woods and are heavily weighted with luxurious billiard cloth base pads and a beautiful finish. The looks and the quality is unbeatable. 
The Master Craftsman Mandeep Saggu is the first Originator of this Chess Set, and reproduced this luxury chess set. 
Like our other collections of Chess sets, The Steiner Signature Series exemplifies a perfect combination of its unique beauty and range of capabilities. It has been designed to withstand the rigors of best performance while maintaining a magnificence which has become the hallmark of Staunton Castle chess set. The design, idea, quality and craftsmanship of this set is unique and unequaled by any set of Chessmen in its price range. Nothing even comes closer to this!
The Chessmen are freshly new and each set consists of 34 Chessmen, including four Queens, a standard that was introduced by none other than Staunton Castle. 
YOUR PURCHASE WILL INCLUDE THIS:-
- Certificate of Authenticity by Staunton castle
- Individual Production Number
Nothing ever comes closer to this beauty! Staunton Castle also provides the Certificate of Authenticity. It is an original manufacturer's memorable production number. Last but not the least, The Herman Steiner Series Chess set is packed with a number of qualities. Grab this chess set now. 
Lifetime Warranty for Hairline Cracks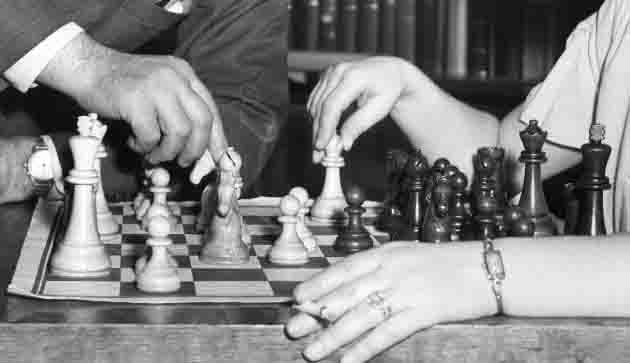 Features and further details
---
Chess Pieces Details

Height

Base

King

 5" (127 mm)

2" (51 mm)

Queen

4.4" (112 mm)

2" (51 mm)

Bishop

3.5" (89 mm)

1.6" (41 mm)

Knight

 3.3" (83 mm)

1.6" (41

 mm)

Rook

  2.7" (67 mm)

1.7" (43 mm)

Pawn

 2.25" (57 mm)

1.35" (34 mm)

 

 

 

Total Weight of Chess Set

Approx. 2700 grams (95 oz)

 

 

Dark Pieces

Ebony Wood

 

Light Pieces

Distressed Boxwood (Buxus)

 

Recommended Board Size

 (2.5") / (64 mm) square size

 
# The Chess set is coming with two extra Queens .
# The high quality Green felt is pasted on the bases. 
Contact us
---
We can be contacted at any time through Live Chat messages, Phone calls or emails if you have any questions, comments or product requests. We will respond to you within 24 hours and do our best to help you out! We encourage our customers to contact us with any questions or concerns! We'd like to be sure you are completely satisfied with your purchase.
Package Includes

34 Chessmen(2 extra queens included). chess board NOT included in this sale. 

Shipping

 

 

 

 

 

Duty and Taxes

We offer Worldwide free Shipping to our customers. For North America, UK, Australia, Europe, and India the item will be shipped by DHL Express Service. 

Sometimes we use the India International Post for Latin America, Russia, Japan and the rest of the world depends upon the shipping service and the location to deliver the parcels. 

Normal delivery time to North America, UK, Australia, Europe, and India is 4 to 7 business days and for the Post for Latin America, Russia, Japan and the rest of the world is 10 to 17 business days.

For USA, Australia and India, there are no extra taxes, other hidden costs or additional shipping charges. The price mentioned on the website is the final price. What you see is what you pay. Our prices are all-inclusive.

For Europe, Canada, Mexico and Latin America buyers pay the duty and taxes from their ends. But our company helps the buyers regards to the duty and taxes. Please contact us for futher information.

Disclaimer

Chess Set in the images can be looked with little bit variation in the color due to photography light reflection or your screen color scheme.  Chess Board in the images is not included in the price of this chess set.
 Listing template designed by © stauntoncastle.com